Treating anemia of chronic kidney disease in the primary care setting: cardiovascular outcomes and management recommendations
Osteopathic Medicine and Primary Care
2007
1:14
Received: 01 June 2007
Accepted: 02 October 2007
Published: 02 October 2007
Abstract
Anemia is an underrecognized but characteristic feature of chronic kidney disease (CKD), associated with significant cardiovascular morbidity, hospitalization, and mortality. Since their inception nearly two decades ago, erythropoiesis-stimulating agents (ESAs) have revolutionized the care of patients with renal anemia, and their use has been associated with improved quality of life and reduced hospitalizations, inpatient costs, and mortality. Hemoglobin targets ≥13 g/dL have been linked with adverse events in recent randomized trials, raising concerns over the proper hemoglobin range for ESA treatment. This review appraises observational and randomized studies of the outcomes of erythropoietic treatment and offers recommendations for managing renal anemia in the primary care setting.
Keywords
Chronic Kidney DiseaseChronic Kidney Disease PatientDarbepoetin AlfaChronic Kidney Disease ProgressionAnemia Treatment
Background
Anemia, a common manifestation of chronic kidney disease (CKD), results primarily from inadequate renal secretion of erythropoietin [
1
,
2
]. The prevalence and severity of anemia worsen steadily as CKD advances (Figure
1
) [
3
]. More than 30% of patients already have hemoglobin (Hb) levels <12 g/dL by Stage 3 CKD [
3
] when the estimated glomerular filtration rate (eGFR) falls below 59 ml/min/1.73 m
2
, and many patients develop anemia before their CKD is diagnosed [
3
,
4
]. In patients with CKD not requiring dialysis, untreated anemia increases cardiovascular risk [
5
–
7
], hospitalization [
8
], and all-cause mortality, [
9
] and diminishes health-related quality of life [
10
] and exercise capacity [
11
,
12
]. Heightened risk for progression of kidney failure has also been linked to untreated anemia of CKD. Thus, management of anemia throughout the CKD continuum is essential [
1
,
2
,
13
].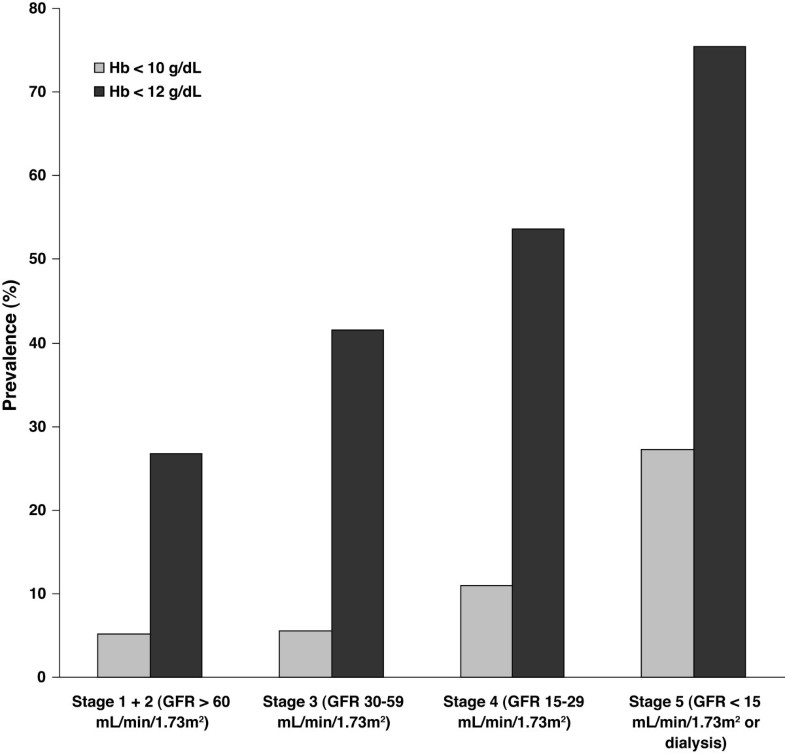 As renal disease often remains asymptomatic until eGFR falls well below 60 mL/min/1.73 m2, CKD, as well as its attendant anemia, remains underrecognized [14–16]. Once early CKD is diagnosed, the complexities of managing multiple comorbidities, such as uncontrolled diabetes, hypertension, hyperlipidemia, and cardiac disease, can displace clinical attention from anemia [17].
Traditionally, primary care physicians (PCPs) have been less inclined to manage anemia of CKD and have often relegated anemia treatment to a nephrologist [17–19]. However, recent claims data suggest that more than 60% of commercially insured patients with CKD-related anemia are treated exclusively by PCPs [17, 19], whereas patients using Medicare [18] or Veterans' Administration services [20] are more likely to be managed by nephrologists prior to dialysis onset. Rapid increases in the end-stage kidney disease population [21] have leveled off in recent years [22]; nevertheless, the aging baby boomer generation, coupled with the epidemic of obesity and diabetes, are predicted to increase the total burden of kidney disease [23]. Nephrologists bear a formidable share of the responsibility for managing advanced CKD [24] and frequently become sole providers of primary care to dialysis patients [25]. The ratio of dialysis recipients to nephrologists is predicted to exceed 160:1 by 2010 [24]. This impending shortage highlights the need for PCP management of early CKD and its consequences.
For patients with CKD, the risk of death from cardiovascular complications exceeds the risk of progressing to renal replacement therapy [26, 27]. In a managed care study [28] of 13,796 patients with eGFR values of 15–90 mL/min/1.73 m2, 11,278 were in Stage 3 CKD and only 777 in Stage 4, reflecting the competing risks of cardiovascular death and CKD progression. Stage 4 CKD patients of this cohort died at a higher rate every year than age- and sex-matched controls without CKD [28].
The recognition that Stage 3 CKD patients (estimated at some 6 million in the US) are more likely to die than to live long enough to reach end stage underscores the need for CKD screening as well as the importance of maintaining a high index of suspicion of occult cardiovascular disease. PCPs are thus uniquely poised to detect and treat CKD and its attendant risk factors before complications develop.
Evidence-based guidelines published by the National Kidney Foundation provide strategies for slowing the progression of kidney disease [15, 16, 29], yet a significant proportion of PCPs do not recognize the importance of CKD-related anemia and its treatment [17]. In a survey of 304 US physicians, only 78% of internists and only 59% of family physicians correctly identified Stage 3–4 CKD in a hypothetical case study [30]. The potential risks and benefits of treating anemia of CKD in patients not on dialysis are presented here, with particular emphasis on cardiovascular effects, the rate of CKD progression, and the implications of recent clinical trials. Fortunately, anemia is one of the most treatment-responsive complications of CKD, and its adverse physiologic sequelae can be prevented or delayed by more timely identification and management.
Conclusion
Anemia, a clinical manifestation of reduced kidney function, is often underrecognized in patients with CKD. Substantial mortality and morbidity are associated with advanced CKD, and current evidence suggests that early proactive multimodal treatment can improve outcomes.
PCPs are uniquely positioned to screen at-risk patients for early CKD and anemia. In most patients, the severity of anemia can be easily reduced by use of erythropoietic agents and intravenous iron as necessary in the primary care setting. Monthly follow-up is required to evaluate general cardiorenal health and to ensure that Hb levels do not overshoot the optimal range of 11–12 g/dL, given current questions regarding the optimal Hb target. The burden of CKD and its complications is expected to continue to increase. With a shortage of nephrologists predicted, an expanded role for PCPs in the management of CKD and its attendant anemia may avert this potential public health crisis.
Declarations
Acknowledgements
Article-processing charges and editorial services were funded by Roche. The authors acknowledge the editorial assistance of Kim Coleman Healy, PhD, from Envision Pharma in the development of this manuscript. The funding source did not review or comment upon the manuscript; responsibility for content and interpretations rests with the authors. Envision Pharma supports Good Publication Practices Working Group and American Medical Writers' Association guidelines.
Authors' Affiliations
(1)
Section of Nephrology, Department of Medicine, West Virginia University Health Sciences Center, Morgantown, USA
Copyright
© Schmidt and Dalton; licensee BioMed Central Ltd. 2007
This article is published under license to BioMed Central Ltd. This is an Open Access article distributed under the terms of the Creative Commons Attribution License (http://creativecommons.org/licenses/by/2.0), which permits unrestricted use, distribution, and reproduction in any medium, provided the original work is properly cited.